Same day motorbike courier service for delivery of parcels, packages, documents, medical samples, cremation ashes, across the UK.
Motorbike Couriers in Warrington, Liverpool, Manchester, Cheshire, Merseyside, Greater Manchester, North Wales, UK.
Spartan Motorcycle Couriers guarantee on time same day delivery, and operate 24 hours 365 days a year.
Motorbike Couriers are advanced motorbike riders and SIA security licenced.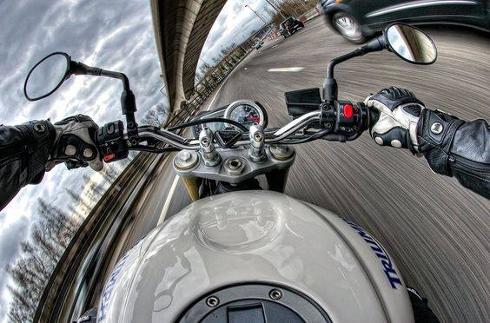 Spartan Motorbike Couriers
Same day motorbike couriers in Warrington, Manchester, Liverpool, Cheshire, Merseyside. Motorbike couriers for same day delivery of time critical consignments across the UK. 24 hours 365 days a year.
Motorcycle Security
LOCK IT

Lock your bike to something, lock your steering lock and take your keys with you.
Motorcycle chains and padlocks are heavy but a great way to make sure your motorcycle is secured to something immovable. Immovable objects are something like a lamp post or a ground anchor. If you're teaming your motorcycle chain with a ground anchor ensure that your ground anchor doesn't have visible/accessible screws. This makes it harder for anyone to get the anchor out of the ground. Don't allow your chain and lock to rest on the ground. If your lock is not resting on the ground it makes it harder for a potential thief to break or smash. When looking at locks for your chain, ensure the lock body encloses as much of the shackle as possible to prevent bolt cutters from being able to access it.
Don't have room for a chain? Need something easy and, to carry? Disc locks are a handy solution. While a disc lock will not stop a motorbike being lifted up, it makes it impossible for the bike to be wheeled off. They are easier for a motorcyclist to carry around. Make sure you get an alarmed motorcycle disc lock as this will notify anyone around what's happening. But, don't forget about your disc lock before you ride off. A handy reminder cable will save you the embarrassment and the repairs cost.


COVER IT

"The most beautiful things in the world cannot be seen or touched" (Helen Keller).Feel like that about your bike? Then cover it!
Use a plain cover that doesn't draw attention to your motorcycle but also means a potential thief won't know what's under the motorcycle cover. The less your bike is seen, the less likely a thief will cosy up to it. The Thief will not know what forms of security you have used and what their risk is and are likely to move on.


KEEP IT IN SIGHT

Think about the location of your bike and keep it in plain sight.
Your motorcycle is best off seen and not hurt! The closer your motorbike is to you or other people the safer it is. But, when you have to leave your motorcycle, try to park in a well-lit location, preferably around security cameras. Avoid parking in between cars as this can give potential thieves some visual protection.


MAKE IT UNIQUE

Make your bike easy to recognise and reduce the resale value of parts.
For a thief, a factory-finished bike is the most valuable: easy to break, easy to sell. Ensure that your motorcycle has unique markings, this discourages thieves as they are less likely to steal a bike that can be identified easily. Alarm stickers are also a good deterrent.


ADDITIONAL MOTORBIKE SECURITY

Remember thieves are looking for motorcycles that will be easy and quick to grab, the more security or deterrents you can add, the better. Simply, make it a little harder, e.g. Thieves generally won't be prepared to break two different kinds of locks.

Security Couriers Manchester
Unlike a standard courier service which relies on speed and accuracy to get products delivered quickly and efficiently, a security courier service specialises in moving products or goods which are either high value, secret, or are in need of en-route protection. This can include items such as Important documents or high value assets such as artwork, jewellery, and cash. In fact any item or product that wouldn't be feasible to send by any other means might be sent via a security courier service instead.
Not just goods
That said a security courier service mightn't always deal solely in high value or important items or goods, instead they can also deal with the safe transport of VIP's from one place to another. This might include government officials, heads of state, celebrities, or those in charge of industry. In fact you could say anything or indeed anyone that requires en-route security might warrant the services of a high level security courier.
So how do security courier services operate?
Similarly to standard courier services, a security courier will be responsible for the safe and timely delivery of the said package, item or person/s. However aside from timely and safe arrival the responsibility of the security courier (as the name suggests) is the security of those items along the route. Being valuable and/or attractive they need specialist care and attention and this is where security courier services come into their own. First and foremost the couriers are security trained so they're either professional security guards or have gone through extensive training. Secondly they will take far more interest in how they're going to get from point A to point B in the safest less conspicuous way, without bringing any unwanted attention to themselves or their cargo. This includes aspects such as route planning, stopping procedures, communications, vigilance etc.
Here at Spartan 24 Hour Security / Spartan Motorcycle Couriers we've been in the security industry for many years. As well as providing security guards for industries and events throughout the UK we also provide high level security couriers to individuals and businesses too.
All rights reserved. Spartan Motorcycle Couriers. 2016.